Masonic Locket
November 19th, 2018 by Robert Cooper
BUYER BEWARE – AUCTION WARNING
Someone is selling 'Masonic lockets' on legitimate auction sites.
These lockets usually become available at the same time that other Masonic items go on sale – e.g. Masonic jewels, Mark tokens and Masonic regalia. We think that this is a deliberate sales tactic to entice the unwary.
So, what's the problem you might well ask? There are a several. Firstly the description provided is: 'Silver locket and chain with enamel lid depicting a Masonic symbol.' (see image)
The problems are:
I) It is tiny! Barely one inch in diameter – that is about the size of a US one cent piece and a British penny coin. We have included those coins in the photograph of the locket in order that one can imagine the actual size.
2) It is not silver! It bears no silver hallmark. It does not tarnish like silver when left in daylight.
3) The chain, for a locket, is far too short being approximately 10 inches in total size. There is no way one could put this around a human neck.
4) The 'Masonic symbol' might be recognised as such in America but certainly not in Scotland or England.
The minimum bid is usually £40 and it typically sells for £45 plus the auction house's commission and other taxes. That can push the price up to anything between £50 – 65.
If two or more people get into a 'bidding war' for the same locket prices of more than £155 have been paid.
Selling items such as this, in this manner, is not illegal. Auctions, in the UK at least, are not governed by any consumer law (so far as we are aware).
If one buys such a 'Masonic locket' (as did we) then only 'CAVEAT EMPTOR' applies. This is Latin for 'Let the buyer beware' which means you cannot, ever, get your money back.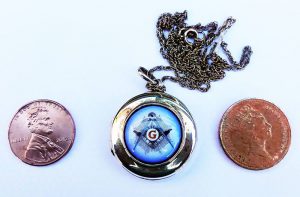 Posted in Uncategorized