Masonic News
There is always lots of news and I am not going to pretend to provide some kind of comprehensive Masonic or historical news service. On this page I shall report items that I consider important and therefore usually important to me – whether they are important to you is for you to decide.
100th Anniversary of the laying of the Foundation Stone of Freemasons' Hall
Over the weekend of 8th, 9th and 10th April the Grand Lodge of Scotland will celebrate the 100th anniversary of the laying of the Foundation Stone of the present Freemasons' Hall. By a quirk of history this year also sees the 275th anniversary of the founding of the Grand Lodge. This happy coincidence caused one immediate difficulty in that Grand Lodge does not celebrate 25th and 75th anniversaries. This is because there are simply too many! With 600+ Lodges in Scotland and a similar number outwith the country it is beyond the capacity of Grand Lodge to perform the elaborate re-consecration and re-dedication ceremony for every Lodge that celebrates a 25th or 27th anniversary.
The Grand Lodge of Scotland will therefore celebrate both anniversaries jointly and for those who might be interested in participating click here or on the previous link. 
International Conference on the History of Freemasonry (ICHF)
The first International Conference on the History of Freemasonry (ICHF) was held in Freemasons' Hall, Edinburgh, Scotland in May 2007. This was an experiment in bringing together academics from all over the world who were studying some aspect of Freemasonry but just as importantly allowing Freemasons and members of the public to hear the most up todate research on a variety of subjects with a connection to Freemasonry. Papers on Freemasonry and Music (Mozart, for example, was a Freemason and his 'Magic Flute' allegedly can only be fully understood by Freemasons), Working Class Freemasonry, Religion and Freemasonry, Freemasonry in modern literature and many other such subjects.
The Conference was such a success that the organisors agreed that it should become a biennial event and Edinburgh (after some considerable discusssion) was accepted to host the second ICHF, not because the Scots want to keep it here forever, but simply because 2009 marks the 250th anniversary of the birth of Scotland's National Bard – Robert Burns. The Scottish government has declared 2009 to be 'Scottish Homecoming Year' and anyone with Scottish roots or connections is invited to the multitude of events to be held throughout Scotland that year.
ICHF2009 therefor has placed special emphasis on Burns and Freemasonry. The organisors hope that papers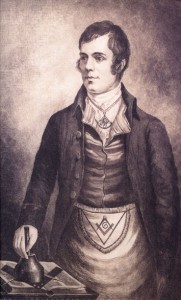 regarding Freemasonry and its impact on Robert Burns, his life and work, will be submitted. In that way Freemasonry will add to the celebration of this significant anniversary one of Scotland's best loved sons.
For more information about the conference click here to go to the ICHF web site of any previous link.
The Grand Lodge of Scotland, the home of Scottish Freemasonry, also has material relating to Burns, the Conference and Freemasonry. To go there click here or on previous links.